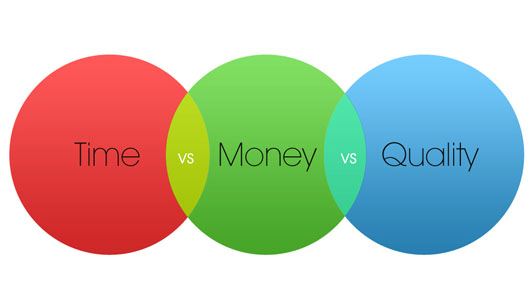 By John Reilly
I remember once reading about the entrepreneur Sir Terry Matthews, who besides growing the telecoms giant Mitel, built a championship golf course in Wales. He said: "When you build a golf course there are three things you should worry about: drainage, drainage and drainage. And when you've done that, invest in a little more drainage." I think he made his point. After more than a quarter of a century of recruiting, If I were to say what I thought the three things you should worry about in securing talent through the interview process was: it would be: speed, speed and speed. And when you've speeded up the process……well, you get my point.
Move promptly
When I say speed, I don't mean haste. Probably a better word to describe the process would be prompt. Selecting the right candidates is one of the most important things you'll do for your business and not to be rushed, but neither ought it to be drawn out over a long period. Slowness at arranging second and subsequent interviews is a huge de-motivator for candidates and you risk losing them to other offers. If you're interested in hiring a top Talent, it's highly likely your competitors are too and much like a couple in a dating scenario, a tardy response is often seen as a lack of interest and a prompt for one of the parties to look elsewhere.
Three interviews is optimum
The interview process should certainly be exacting and thorough but it should be over days rather than months as it often is. Google famously once interviewed a candidate sixteen times. "That was way too many, said former CEO Eric Schmidt, now a technical adviser, "We've since done a statistical analysis and the answer today is four to five interviews." With highly sought after positions, like those at Google, stretching the process to five interviews won't affect candidate supply greatly but for the majority of companies, which have much more competition for top Talent, three interviews is probably the optimum number. The most formal interviews I've arranged for a candidate with the same employer is six. The modal average is three. Informal meetings are sometimes added after the third interview but usually the decision to hire has been made by then.
Aim for less than three weeks
Staff-holidays notwithstanding, with the right preparation; planning and diary co-ordination, three interviews can be arranged to fit in a span of two weeks in most cases and this is an efficient time span to aim for. If it stretches to that period, you'll still be ahead of a lot of your competitors.
According to Glassdoor's latest survey the hiring process in the UK averages at nearly four weeks, slower than Canada, the US, Ireland and Australia. That four weeks is a mean average including Public Sector and Government hires, which often have complex vetting procedures. For private companies alone, it's almost certainly less.
Longer doesn't mean better
Obviously, there is a balance to be had in the length of your interview process. Businesses face a trade-off between more carefully screening candidates and filling vacant roles as swiftly as possible. Too long a process, as I've alluded to, often results in talented applicants lost to competition but if slower processes result in better hires, are these not desirable? In my experience, longer interview processes are not as a result of layers of vetting and more careful screening but rather of organisational issues in the hiring company: co-ordinating diaries being a common cause. Hiring is often seen as incidental rather than core and not given the diary prominence it needs. Planning at the start of the interview process, with pre-allocated diary slots for interviewing managers can make a big difference. If the candidate doesn't proceed through the process as hoped or expected, then that feed-up diary time can come as a bonus. Another idea is to interview candidates twice in one day. That often works for them and they need less days away from their current office and gives the hiring company the best chance to secure the candidate if he or she proceeds to offer. Better to give a candidate two, two-hour interviews on two different days than four, one-hour interviews over three or more weeks.
In summary then, private-sector companies without complex security vetting procedures would benefit from aiming to complete their interview processes in two-three weeks and more junior positions should be even less. The average time to hire a Marketing Assistant in the US for example is just eleven days; it's probably not a lot different in the UK. Planning and diary co-ordination are the key factors. Plan the interview days and diary slots at the start of the process and move promptly through the stages. You'll more often get the Talent you want and they will be impressed at your efficiency – a good first impression to give them.